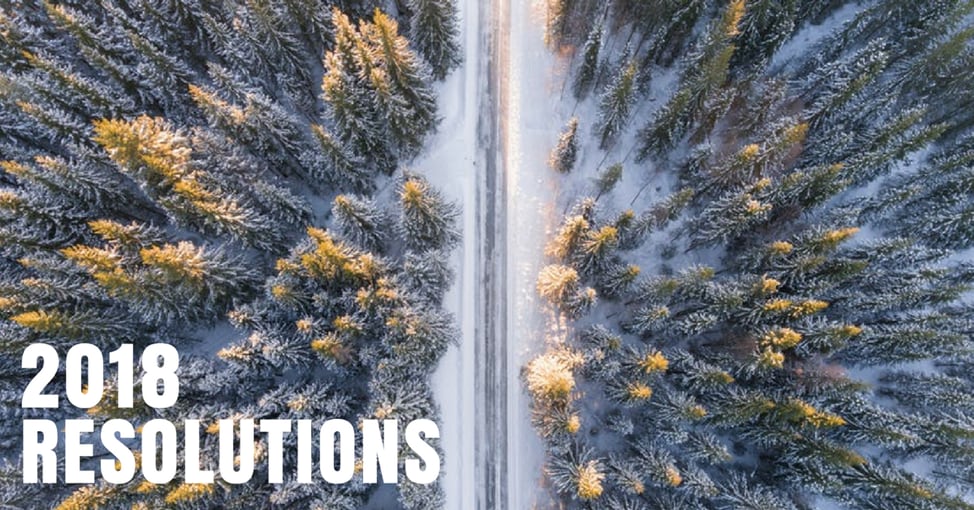 Here we are again, at the beginning of a new year with a clean slate. Are there things you wish you could change about your surroundings and self? If so, right now is the time to switch it up a bit. We're not talking drastic things, but realistic resolutions to help you be a better version of yourself. Our team has compiled a few of our new year goals to help inspire you to stick to yours in 2018.

We know telling you to quit eating unhealthy foods altogether isn't a reasonable request. With so many fad diets, it's hard to know what you should and should not avoid. We challenge you to commit to including more healthy options in your diet, that's all. This is an easy change that will eventually become a habit, helping both your waistline and your wallet.
If you're like us, you've got clutter. Whether it's in your garage, closet, or basement, it's time to try and let some of it go in the new year. We're not talking clean out all of your belongings until what you have left can fit into one duffle bag. An easier way to de-clutter is to get rid of clothes, gadgets, toys, etc. that you haven't used for the past year. If you went 12 months without it, chances are you don't really need it. This is an easy resolution to commit to and follow through on.
In the day and age of texting, it's easier now to be passive and calculated in reactions. This isn't a healthy way to interact with those around you. While it may be hard to see people in person, try FaceTiming. This way, you'll see one another's face and your interaction will be more genuine and meaningful. So, stop texting multiple pages about your feelings and interact face-to-face (via screen) in 2018.
While you're bettering yourself, we also ask that you reconsider your vehicle habits. Are you keeping up with services, cleaning, and overall wellness? If not, we're happy to provide a special coupon during January that will help keep your car care resolution on track throughout 2018. With this deal, you'll receive three oil changes, three tire rotations, and three multi-point inspections. This will ensure you're safe on the roads and your ride is in the best possible condition at all times. The weather in Colorado is all over the spectrum and you're better safe than sorry.

Claim your prepaid maintenance coupon online

and we hope to see you in our service shop soon.